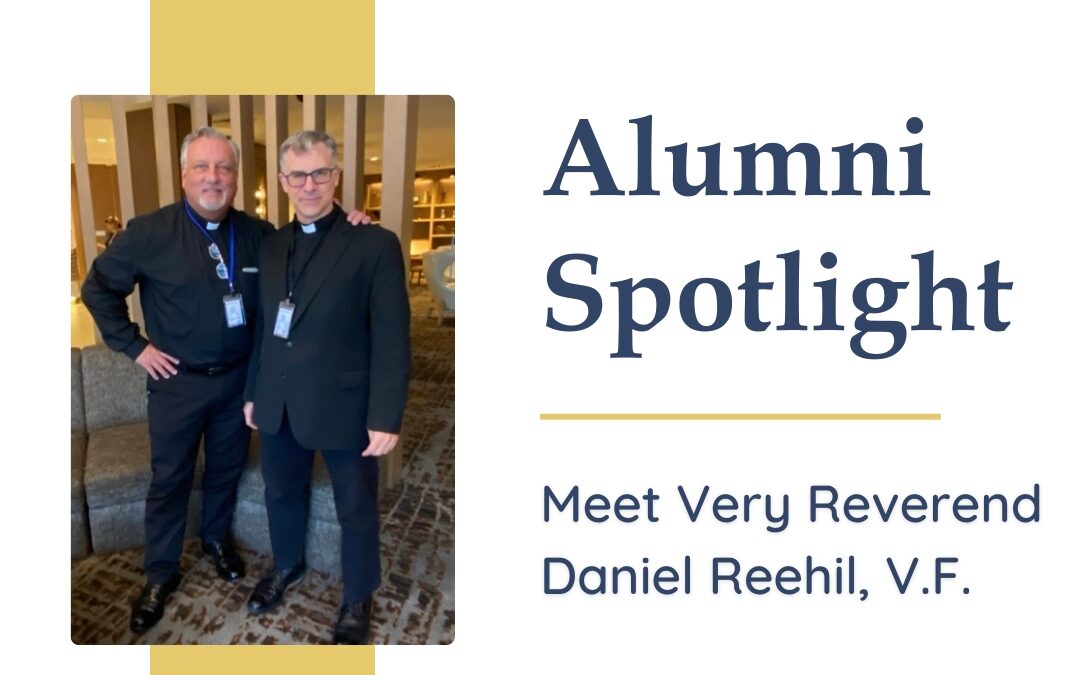 Very Reverend Daniel Reehil, V.F., is the Pastor of St. Catherine of Siena Church in the Nashville area and has a fascinating story about his journey to the priesthood.
As a Wall Street banker in Manhattan in the 1990s, he was invited to take a trip to Medjugorje in 1998 after being away from the church for twenty years. During confession, the priest told him that he believed he had a vocation. This life-altering pilgrimage began a transformational conversion for him.
The experience led him to re-evaluate his life, and so after 9/11, he moved to Boston to begin his formation under the mentorship of Fr. Tom Dilorenzo. Later, Fr. Dan attended Holy Apostles College and Seminary and completed his MDiv in 2014. During that time, he also spent five years in a contemplative hermitage
Along with his busy pastoral responsibilities and his role as Treasurer of the Diocesan Bank of Nashville CCIL, Fr. Dan also leads an engaging radio broadcast at 9:00 am CT called Battle Ready on Radio Maria USA, discussing a variety of topics relevant to our times and to advancing the Gospel.
Fr. Dan is also a well-known exorcist of the Diocese of Nashville. In fact, he was featured this past October on Fox News warning of the dangers of Ouija boards.
In 2018, he received his exorcism training at Ateneo Pontificio Regina Apostolorum in Rome and completed intensive spiritual warfare training with the Intercessors of the Lamb in Omaha. He has seen unusual paranormal experiences and strange manifestations in his role of exorcist but remains undaunted.
"As I approach the 10th anniversary of my ordination to the priesthood, I am continually thankful for the solid, orthodox formation I was afforded at Holy Apostles Seminary and College. The strong work ethic and mission to serve, coupled with an excellent academic formation and a dedicated discipline of prayer and adoration have given me the tools to cultivate a rhythm of life to faithfully serve the parish and various ministries I shepherd," said Fr. Reehil
"I have also maintained many solid friendships with the men I befriended at Holy Apostles Seminary; friendships that have grown into a brotherhood and relationships I am so grateful to have formed while in seminary."
Fr. Reehil is in demand and travels extensively for speaking engagements worldwide. This fall, he was a guest speaker at the Boston Marian Conference in Quincy, Massachusetts. At the conference, he shared stories about the importance of following the leading of the Holy Spirit as we live out our Christian calling.
"As pastor of St. Catherine of Siena Parish in Columbia, TN, and as the Exorcist of the Diocese of Nashville, Fr. Dan Reehil is placing his many gifts at the service of the Church in a truly Christ-centered manner, "said Fr. Kucer. "Holy Apostles College & Seminary is blessed to have formed Fr. Reehil at our seminary. May Fr. Reehil and his ministry be blessed abundantly and flourish in accordance with God's will."
Holy Apostles College and Seminary www.holyapostles.edu is a NECHE and ATS accredited college with a mission of preparing and educating seminarians, consecrated and lay students, for the New Evangelization through undergraduate and graduate programs. Students have access to faithfully Catholic, truly affordable, and fully online programs as well as residential religious programs in historic Cromwell, Connecticut. As a pioneer in online learning, Holy Apostles is one of the first theological schools to offer 100% online graduate programs. Alumni and faculty of the institution include internationally recognized leaders and experts in apologetics, philosophy, and theology.