Angelicum Academy Partnership
Holy Apostles and Angelicum Academy Partnership Overview
From 9th Grade to Accredited BA degrees with Double Majors in Just 5 Years
Holy Apostles College & Seminary and the Angelicum Academy has designed a path for qualified homeschool students to earn Associate's degrees (A.A.) at the completion of 12th grade, and a Bachelor's degree (B.A.) one year later.
Holy Apostles' Associate's degrees require 60 credits. Students who begin the Ignatius-Angelicum Liberal Studies, four-year, Great Books Program in 9th grade (minimum age 14, and up), may transfer 45 credits completed from that four-year program to Holy Apostles College.
Holy Apostles allows home schoolers and 11th and 12th grade high school students (with a minimum 2.5 GPA) to take 15 (or more) credits online or on campus. Combined, this allows home school students to earn a total of 60 college credits by their completion of 12th grade. Such students may then enroll in the Holy Apostles Associate's degree program that same month, and receive their A.A. degree in Liberal Arts at the Summer term graduation of the same year.
For more information regarding the Angelicum Academy Partnership Program, please visit the Angelicum Academy Webiste at: http://www.angelicum.net/degree-program/
Success of the Holy Apostles-Angelicum Partnership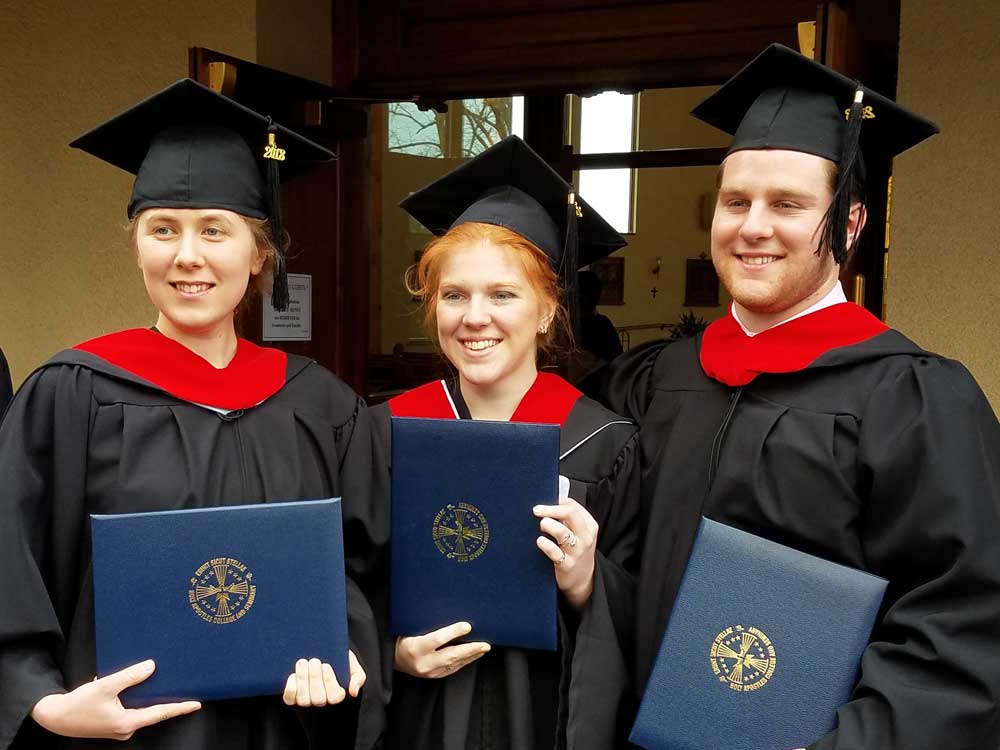 "Thank you for all you have done over the years with Markus' & Sarah's education!   We are so grateful and are unsure of the words that could ever possibly express the blessings we have received by being a part of Angelicum Academy & Holy Apostles. We are so grateful for all the staff at the Angelicum Academy have provided. We are so excited that our son Sam will be starting the Great Books Program with you! God Bless You for all you do!" 
With Sincere Gratitude and Best Wishes Always, 
Mark & Terri Visconti
As Angelicum Academy-Holy Apostles students, Sarah and Markus Visconti began studying online at Holy Apostles in the summer semester of 2017 while Angelicum Academy students, and by the end of the Spring Semester of 2018, Sarah and Markus had completed their BA degrees with a Double Majors in Philosophy and in History in the Social Sciences, Sarah at the age of 19 and Markus at age 20.  
Frequently Asked Questions
Q: Who is eligible?
A. The first step will be to determine your eligibility for the program. Please click HERE and complete the Angelicum Academy Form. If you have questions regarding your eligibility, please contact Mr. Pat Carmack at 410-282-6172 or email at info@angelicum.net
Once eligibility as been identified, you will then be able to formally apply to Holy Apostles College & Seminary and Taylor A. Riso, the Director of Undergraduate Admissions will be able to assist you with the Admissions process. Holy Aposltes College & Seminary looks forward to helping you achieve your collegiate goals!
Holy Apostles Angelicum Application (Click Here)
Q: Is there additional documents to submit for Admission?
A: In addition to the online application form, the following items are also required:
Official transcripts must be sent to Holy Apostles College from all high schools attended;
A typed essay from the student of approximately 500 words that provides a brief autobiography and the student's reasons for choosing to study at Holy Apostles;
One letter of recommendation from one of the following:
– A recent educator, guidance counselor or academic mentor or a Catholic priest or a religious leader.
Q: What are the Standardized Test Codes for Holy Apostles?
A:
1. Advanced Placement Exams (AP Exam) College Code = 0921
2. SAT College Code = 0921
3. ACT College Code = 7951
4. College Level Examination Program (CLEP Exam) College Code = 3439
For the Holy Apostles AP Exam Policy click HERE.
Q: What is the Cost?
A:
For the AA option –
The A.A. track includes the entire Great Books Program & Theology Online & five online courses with Holy Apostles College – a total of 75 credits.
To complete the A.A., students need only 45 credits from the Angelicum Academy plus 15 credits from Holy Apostles, but all students are encouraged to complete the 48 Great Books credits and the 12 Theology online credits so that they complete a total of 75 credits at the end of their time in the program.
The price for 60 credits or for up to 75 credits is the same, in any case, and breaks down as follows:
$1,875 per Semester for 8 semesters. Total = $15,000 for up to 75 college credits.
($325 monthly payments)
See http://www.angelicum.net/great-books-program/enrollment-form/ for more information.
For the BA option –
Students who complete the A.A. are encouraged to continue through their B.A. in any of the four majors offered by Holy Apostles College & Seminary – theology, philosophy, English in the Humanities and History in the Social Sciences. If students completed 75 credits in the A.A. track, then they are only 45 credits away from the B.A. at $320 per credit hour for a total remaining tuition cost of $14,400.
Total tuition cost for both the A.A. and the B.A. = $29,400.
Learn more about the Angelicum Partnership!