Bachelor of Arts in Philosophy
Please Contact Us!
The Admissions Office is only a phone call or an email away!
Holy Apostles College & Seminary
Admissions Office
33 Prospect Hill Road
Cromwell, CT 06416
Graduate Admissions Phone :
860-632-3066
Undergraduate Admissions Phone:
860-632-3026
Admissions Email:
[email protected]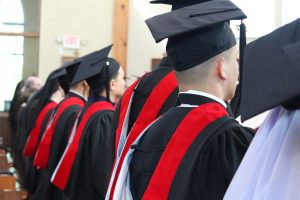 The Bachelor of Arts in Philosophy program is available both on campus and 100% online and is a 120 credit Undergraduate degree. This faithfully Catholic program is designed specifically for the person who has an interest in a liberal arts education.
Get a head start on your career and life!
Holy Apostles College and Seminary's innovative year-round online campus provides flexibility for any schedule. This means you may study at your own pace!
The B.A. Philosophy program courses examine:
Basic areas of Philosophy as they relate to Christian Theology

Logic

Epistemology

Metaphysics
Courses such as Philosophy of God or Ethics lead students to a deeper intellectual insight into the Christian belief structure. The courses are geared to help the student combine faith with knowledge and to practice looking at life through the paradigm of Christian Theology.
A candidate for the B.A. in Philosophy is required to complete all course work detailed in the degree plan. The specific degree requirements for the Bachelor of Arts in Philosophy may be found in the Degree Plan below.
Bachelor of Arts in Philosophy Degree Plan
Students can pursue the degree at their own pace by studying three semesters per year, and by taking more than the four courses per semester.
Students desiring to double major need to complete at least 30 credits in each of any two of the areas below, with 9 of those credits in upper-level coursework (300 or above) within each major. Students interested in pursuing the double-major option will work with their academic advisor to shift an elective from a non-major area of study into a major area of study.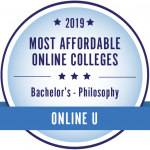 Ranked #1 Catholic
2019 Most Affordable Online Colleges for Philosophy Degrees
Ranked #15 among all institutions.
Are Transfer Credits Accepted for the B.A. Program?
A maximum of 60 credit hours with a grade of C or higher will be accepted for transfer into the B.A. program, provided credits are from accredited colleges, have not already been used for a Bachelor's degree or higher, and are applicable to the B.A. degree. Of accepted transfer credits, only fifteen may be in a student's area of concentration. Acceptance of transfer credits is at the discretion of the Academic Dean. The college also accepts CLEP testing (see the CLEP testing policy).
Beginning July 1, 2015, students may transfer into their degree program as many as, but no more than, 60 credits.
1) Freshman, 0-29 credits
2) Sophomore, 30-59 credits
3) Junior, 60-89 credits
4) Senior, 90-120 credits
How Do I Apply?
Applicants for the B.A. program should follow the Undergraduate Admissions procedures. Applicants must be able to show proficiency in both English and Mathematics, either evidenced by previous college experience or by proficiency exam.
What Are Available Career Paths With This Degree?
Career possibilities with an Bachelor of Arts in Philosophy include but not limited to:
Education 
Pursuing a career in law
Pursuing a career in medicine
Pursuing a career in higher education
Bioethics
Human Resources Personnel
Public Relations Personnel
Customer Service Personnel
Youth Services Personnel
Patient Services Representative
Faculty
Program Director:
Dr. Cynthia Toolin-Wilson
[email protected]
Online Department Chair
B.A. Philosophy, Online – Dr. John Finley
On Campus Department Chair
B.A. Philosophy, On Campus – Dr. Luigi Iacono
For a full listing of our faculty, please visit our Faculty listing.
Frequently Asked Questions
How does it take to complete the Bachelor of Arts degree?
The Bachelor of Arts degree students can pursue the degree at their own pace by studying three semesters per year, and by taking more than the four courses per semester.
There is a 6 year time limit from entry into the program for completion of the degree requirements.
Is the program flexible for working individuals?
Our 100% online courses provide the flexibility for working or busy individuals.
Are the Faculty members faithful to the Magisterium?
All members of the faculty who teach theology and philosophy must be approved by the Chancellor, make a Profession of Faith, and take an Oath of Fidelity to the Magisterium.