Online Master
of Divinity
Please Contact Us!
The Admissions Office is only a phone call or an email away!
Holy Apostles College & Seminary
Admissions Office
33 Prospect Hill Road
Cromwell, CT 06416
Graduate Admissions Phone :
860-632-3066
Undergraduate Admissions Phone:
860-632-3026
Admissions Email:
[email protected]
100% Online Master of Divinity in the New Evangelization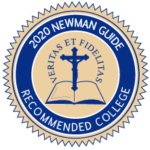 Are you ready to set the world "on fire" with the love of God (Luke 12:49)? Earn your Master of Divinity in the New Evangelization 100% online from a Cardinal Newman Society Recommended College! 
Do you want to strengthen your understanding of the Catholic Faith and hand it on to others more effectively? Would you like to advance your career or prepare yourself for ministry? Do you wish to receive a firm grounding that could lead to the Lay Ministry of Catechist? Accomplish your goals by obtaining our affordable Master of Divinity in the New Evangelization.
Faithful to the Magisterium
Rooted in Tradition
Outstanding formation for the Lay Ministry of Catechist
Flexible Learning
Exceptionally Affordable Tuition
Practical and timely
"I came to cast fire upon the earth; and would that it were already kindled!"
Luke 12:49
Master of Divinity in the New Evangelization Overview
Our Master of Divinity program is a professional degree that offers students theology immersed in Sacred Scripture. One's theological foundation is then applied practically in pastoral studies. As a result, our graduates effectively respond to Pope Saint John Paul II's call for new "ardor, methods and expression" in evangelization (John Paul II, Address to CELAM, 1983).
The 72-credit Master of Divinity in the New Evangelization prepares Catholic men and women for ministry. Additionally, it prepares individuals for further studies, such as a Doctor of Ministry (D.Min.), or another Doctoral program, Licentiate, Graduate Certificate, or Post Master's Certificate.
Through our online Master of Divinity program, you will be guided to pursue truth, goodness, and beauty for a lifetime. Be ready to "make disciples of all nations" by teaching them to follow all that Jesus has commanded us (Matthew 28:19-20).

 Tap into the rich patrimony of Catholic theology, pastoral studies, and Sacred Scripture with our online Master of Divinity program.
Experience enriching courses taught by outstanding, faithful, Catholic professors.
Receive human, spiritual, intellectual and pastoral lay formation.
Be part of this exciting and timely adventure today!
M.Div. in the New Evangelization Program Requirements
Successful completion of a set program of 72-credit hours of classes (minimum grade point average of 3.0 or higher) within ten years of the student's date of entry (Under extenuating circumstances, a student may request an extension in writing to the Program Director.)
Successful completion of the Holy Apostles formation program in human, spiritual and pastoral formation (10 hours in each dimension; details in M.Div./NE Handbook)
Annual meeting with the Program Director to discuss one's formation and progress in the program

Exit meeting with the Program Director

Successful completion of a summative evaluation project and comprehensive exam after all coursework has been completed (The summative evaluation and comprehensive examination may be completed during one's final semester of coursework.)
Summer Start Date:
May 9, 2022
• You!
• Those Working in Ministry
• Those Desiring to Pursue Work in Ministry
• Catholic School Teachers and other Educators
• Catholic Professionals
• Nurses, Therapists, and other Health Care Professionals
• Counselors and Spiritual Directors
• Marriage and Family Coordinators
• Youth Ministers
• Parents who Homeschool their Children
• Coordinators of Religious Education Programs
• Everyone Wanting to Grow in Knowledge and Love of the Catholic Faith
Is this an Online Program?
Yes. Our 100% online courses provide students with the flexibility that makes the Master of Divinity degree program practical and "doable" for those with obligations to parish, family and work. The Master of Divinity in the New Evangelization degree may be completed 100% online.
Which career paths could I pursue?
Equipped with theology and pastoral competence, our graduates will advance the New Evangelization as Catholic school teachers, administrators, DREs, apologists, hospital chaplains, youth ministers, marriage and family coordinators, and parochial and diocesan directors of countless ministries in the Church today.
The time is now to "rekindle in ourselves the impetus of the beginnings and allow ourselves to be filled with the ardor of the apostolic preaching which followed Pentecost" (John Paul II, Novo Millennio Ineunte #40).
In sum, this program is for you! Apply today!
Is Holy Apostles College & Seminary accredited?
Holy Apostles College and Seminary is accredited by the New England Commission of Higher Education (NECHE), the Connecticut Office of Higher Education (CTOHE), and the Association of Theological Schools (ATS). For more accreditation information visit here. 
Are the faculty members faithful to the Magisterium?
Yes, faculty members are faithful to the Magisterium. On-campus professors take the Oath of Fidelity that is witnessed by our Chancellor, the MSA provincial. Online professors are invited to take the Oath of Fidelity and make the Profession of Faith by ZOOM at the same time that the on-campus faculty does at the beginning of each academic year.
Who is the Program Director?
Contact M.Div. Admissions