Holy Apostles College & Seminary is pleased to make the ministry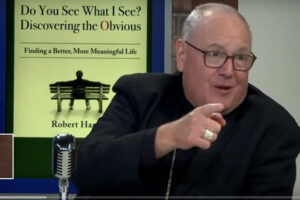 called The Fireside Fellowship available to students. Created by actor, author and Catholic Robert Hanley, The Fireside Fellowship is a spiritual supplement to Hanley's book Do You See What I See? Discovering the Obvious, which has been praised by His Eminence, Timothy Cardinal Dolan, His Eminence, Wilton Cardinal Gregory, and other bishops as well as major media outlets.
The mission of The Fireside Fellowship is to enable people to recognize Judeo-Christian principles in everyday experiences and apply them to their lives. The focus of both Hanley's book and his ministry is on discovering useful, valuable insights in everyday life that seem to float past the observations of most people. By offering practical and spiritual perspectives, the Fellowship hopes to effect a positive change in the life and faith of each person. Now in its 12th consecutive year, these discussion meetings are reaching individuals across the country online.
Each of The Fireside Fellowship discussion meetings addresses a specific topic that is universally relatable, and that each of us deals with in our daily lives—for example, Providence, Goodness, Tolerance, Peace, Perseverance, Change, Trust, Humor, Patience, and Gratitude. By storytelling, whether he's filling up his car at a gas station, having his teeth cleaned or auditioning for a film starring Robert De Niro and Al Pacino, the universal truths and values Robert uncovers in these anecdotes and short stories relay the everyday applicability of a simple perspective that can provide enormous benefits to each of us in our respective journeys through life and faith.
Pope Francis, in Message of His Holiness Pope Francis For The 54th World Communications Day, January 24, 2020, said, "I would like to devote this year's message to the theme of storytelling, because I believe that, so as not to lose our bearings, we need to make our own the truth contained in good stories. Stories that build up, not tear down… They can help us understand and communicate who we are… By immersing ourselves in stories, we can find reasons to heroically face the challenges of life." This is exactly what Robert does at each of The Fireside Fellowship discussion meetings. By incorporating references from the Bible, the lives of the saints, and other religious sources, he demonstrates the relationship between Judeo-Christian principles and the universal topics of today's everyday life.
Robert has been featured in numerous major media outlets across the country including NBC Nightly News, Washington (DC) Times, Los Angeles Times, Los Angeles Daily News, and Chicago Tribune. Both the city and county of Los Angeles have honored him with their respective Humanitarian of the Year awards.
Holy Apostles students are welcome to participate in these once-a-month discussion meetings, which will be conducted via Zoom. For further information or to sign up to participate, contact The Fireside Fellowship at https://Robert-Hanley.com/TheFiresideFellowship.php