Join us and our friends at Crossroads 4 Christ (C4C) next week for their virtual Catholic young adult conference! Join us from May 11th-17th to find your Reason for Hope in Jesus Christ through daily keynotes, breakout session talks, live-streamed interviews, panel discussions, prayer activities, and much, much more! The best part: It's all completely free!
Each day from Monday to Friday, one keynote talk will be released each morning, followed by a LIVE interview with the keynote speaker in the evening where audience members will have the opportunity to ask questions. After the interview, there will be a livestream prayer activity to cap off the night.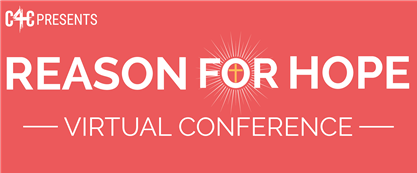 That's not all! Starting Saturday, May 16th, virtual conference attendees will have on-demand access throughout the weekend to ALL conference content: weekday keynotes, weekend breakout talks, livestream interviews, panel sessions, daily prayer activities, and much, much more!. Much more is planned, so stay tuned for breaking updates as more information is released! Week-long conferences with this much content typically cost hundreds of dollars, so don't miss out on this awesome opportunity!
Presenters currently scheduled to give their
Reason for Hope (with more to come!):
Leah Darrow Archbishop Leonard Blair Fr. Michael Casey Samantha Kelley Travis Moran Sr. Anna Wray, OP Fr. John Paul Walker, OP Sean Forrest Katie Purple Katrina Zeno Sam Todzia Andrew Folsom Clare McCallan
Matt Maher Emily Wilson Chris Stefanick Fr. John Parks Dr. Paul Gondreau Sr. Faith Marie, FSE Pete Burak Fr. James Brent, OP Lexi Heise Santonio Hill Brad Endres Santina Moran Fr. Joseph Gill
We hope (pun fully intended) that you'll be able to join us for our virtual C4C Young Adult Conference! You can register for the event and find updates at www.c4cconference.org. Conference attendance is open to all those interested in young adult outreach: young adults themselves, diocesan offices of young adult evangelization, and parents/friends/family, so spread the word!
Next Week, join us in finding our Reason for Hope!