Holy Apostles Students of the Archdiocese of Los Angeles Putting the Knowledge They've Gained to Good Use
In 1957, the founder of the Society of the Missionaries of the Holy Apostles the Very Rev. Eusebe Menard–hailing from Canada–established a Roman Catholic seminary in Cromwell, CT. His intention was to foster and form "late" vocations to the priesthood. 
Fast-forward – Holy Apostles 2022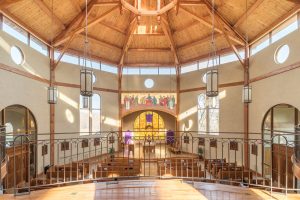 Fast-forward fifty-five years later, and Holy Apostles College & Seminary continues to stand proud. Its campus stretches gracefully across Cromwell's beautiful, rolling hills. It continues to serve people of all ages, and from all walks of life, in their individual quests for wisdom and holiness in their vocations. Both in its traditional on-campus setting and through its pioneering, affordable, 100% online programs, Holy Apostles serves as an academic home to seminarians, laity, clergy, and consecrated religious from around the country and even around the globe.
Flexible Learning – the Holy Apostles Difference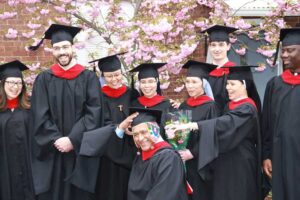 The diversity of students is made possible by the asynchronous nature of Holy Apostles' classes. This freedom has "made all the difference" for Ben of the Archdiocese of Los Angeles. He is currently earning his Master of Arts in Theology at Holy Apostles. "I can study anywhere and anytime," he says, "scheduling my coursework around other activities." Jessica, also of the Archdiocese of Los Angeles says, "the flexibility that Holy Apostles offered provided an excellent opportunity for me to acquire my masters while taking time off to be a mother and tend to the needs of our autistic son." She graduated from Holy Apostles in 2020 with her Master of Arts in Theology degree. "I am grateful."
Ben can attest that "Holy Apostles is 100% faithful to the authentic doctrine and magisterium of the Church." Students at Holy Apostles not only learn the Catholic faith in its fullness and truth, but are also prepared to thrive in their vocations and to excel at fulfilling careers. According to Fr. Raymond Marquez, also of the Los Angeles Archdiocese,
"Studying at Holy Apostles has refreshed my memory of certain ways that the Church articulates articles of the faith and at times made things more understandable to me, especially putting them in the context of experiences after several years of priestly ministry. Taking these courses has helped me develop new insights when I give homilies, when doing pastoral counseling, or in everyday conversations with people who want to understand the faith better."
Jessica adds, "the orthodoxy of the teaching at Holy Apostles is its crowning achievement and they should be applauded for insisting on this feature in their classes and among their professors. It has aided in increasing my own faith, and as a result has given me the skills to better educate others."
Those who are interested in joining the joyfully and faithfully Catholic community that is Holy Apostles, whether on-campus or online, are warmly welcomed to visit www.HolyApostles.edu to learn more and begin their application.
Article written by Cameron Daly, Assistant Director of Undergraduate Admissions