Master of Arts in Theology – Bioethics with NCBC Certification
Bioethics Concentration with NCBC Certification Overview
Holy Apostles and the National Catholic Bioethics Center (NCBC) are collaborating to provide a unique, affordable educational opportunity for professionals and students interested in receiving general or specialized training in the growing field of Catholic bioethics. The Master of Arts in Theology (M.A. Theology) concentration in Bioethics with NCBC Certification is available 100% Online.
One result of this effort is a one-year sequence of graduate-level courses in bioethics available through NCBC. Qualified students pursuing Certification in Health Care Ethics with the NCBC may receive 9 graduate-level college credits through the NCBC learning management system for the coursework completed leading to certification.
A detailed description of the new course sequence in Catholic Bioethics is presented below.
The sequence of courses in Catholic Bioethics will be taught by Fr. Tadeusz (Tad) Pacholczyk, Ph.D., who is the Director of Education at the NCBC and is recognized as one of the leading experts in the field of Catholic bioethics. Fr. Pacholczyk serves as an adjunct faculty member at Holy Apostles College & Seminary.
Core Curriculum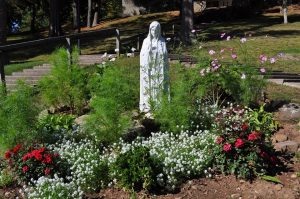 Holy Apostles requires M.A. in Theology candidates to complete a total of 12 courses for 36-credits. The first two courses worth six-credits are our co-requisite sequence of PHS 607 Philosophy for Theologians and DTH 600 Faith & Revelation followed by a twelve-credit core curriculum within the program. The core courses are as follows:
SAS 651  Synoptic Gospels
DTH 731 One & Triune God
DTH 751 Christology
MTH 611 Fundamental Moral Theology I
Four courses must be taken within the area of concentration which includes the three courses completed through the NCBC certification and one course completed through Holy Apostles. The Bioethics with NCBC Certification degree plan will detail the courses required.  The remaining two courses are electives and can be taken within or outside the concentration as long as the student remains inside the program in which he or she has matriculated.
Coursework
The NCBC sequence of courses in bioethics is a one-year program that has both fall and spring start dates. The following courses comprise the NCBC bioethics sequence. Students pursuing NCBC certification with or without the M.A. in Theology must take the three bioethics courses described below:
BIE 653 Guiding Principles of Catholic Medical Ethics 
This course explores the extraordinary challenges, both medical and moral, currently facing Health care in the U.S. The Ethical and Religious Directives for Catholic Health Care Services, will be used to overview critical topics in Catholic medical ethics. Online Only. Taught by Fr. Tad Pacholczyk.
BIE 673 Catholic Bioethics and the Dignity of the Human Person 
This course examines key areas of modern bioethics, and be able to articulate the major ethical concerns raised by these issues and areas where ethical ambiguity may still exist from the vantage point of Catholic teaching. Online Only. Taught by Fr. Tad Pacholczyk.
BIE 675 Case Studies and Applied Topics 
This course examines a number of bioethical topics and critically analyzes case studies from a Catholic perspective, including research ethics, ethics committee process topics, beginning and end-of-life ethical issues, selected clinical issues. Online Only. Taught by Fr. Tad Pacholczyk.
For students enrolled Summer 2019 and prior:
Bioethics Concentration with NCBC Certification Degree Plan
Renowned Bioethics Faculty
Fr. Tadeusz (Tad) Pacholczyk, Ph.D.
Rev. Deacon Thomas J. Davis, Jr.