Master of Arts in Theology – Dogmatic Theology
Please Contact Us!
The Admissions Office is only a phone call or an email away!
Holy Apostles College & Seminary
Admissions Office
33 Prospect Hill Road
Cromwell, CT 06416
Graduate Admissions Phone :
860-632-3066
Undergraduate Admissions Phone:
860-632-3026
Admissions Email:
admissions@holyapostles.edu
Dogmatic Theology Concentration Overview
Dogmatic Theology courses are designed to examine the doctrine of the Catholic Church. Topics covered include Trinity, Christology, Ecclesiology, the Sacraments, Mariology and Grace. 
The Master of Arts in Theology (M.A. Theology) concentration in Dogmatic Theology is available either On Campus or 100% Online.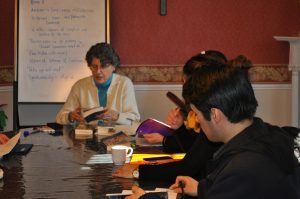 Core Curriculum
Holy Apostles College and Seminary requires M.A. in Theology candidates to complete a six-credit co-requisite sequence of PHS 607 Philosophy for Theologians and DTH 600 Faith and Revelation along with a twelve credit core curriculum within  the program. The core courses are as follows:
SAS 651  Synoptic Gospels
DTH 731 One & Triune God
DTH 751 Christology
MTH 611 Fundamental Moral Theology I
Four courses must be taken within the area of concentration, and these are clearly marked within each concentration. The remaining two courses are electives and can be taken within or outside the concentration as long as the student remains inside the program in which he or she has matriculated.
Coursework
A candidate for the M.A. in Theology is required to complete all course work detailed in the degree plan. The specific degree requirements for the Dogmatic Theology concentration may be found in the Degree Plan below.
Dogmatic Theology Concentration Sample Degree Plan
Graduate Capstone
The Summative Evaluation is the capstone of the student's academic work in the M.A. program at Holy Apostles College and Seminary. All candidates for the M.A. degree are required to complete a Summative Evaluation exercise, which may take the form of a thesis or a comprehensive exam. Full descriptions of the Summative Evaluation exercise are available on the Summative Evaluation page.
What Are Possible Career Paths With This Degree?
Career possibilities with an Master of Arts in Theology include but not limited to:
Youth Ministry
Director of Religious Education
RCIA Director
Catholic School Teacher
Mission Work
Catholic College/University Faculty
Faculty
Program Director:
TBA
Concentration Chair:
TBA
For a full listing of our faculty, please visit Faculty Listing.
Frequently Asked Questions
How long does it take to complete an MA in Theology?
The M.A. degree program may be completed in as little as 2 years.There is a 6 year time limit from entry into the program through completion of the degree requirements. Please see the Academic Catalog for additional information.
Is the program flexible for working individuals?
Our 100% online courses make the M.A. degree program flexible for working and busy individuals.
Are the faculty members faithful to the Magisterium?
All members of the faculty who teach theology and philosophy must be approved by the Chancellor, make a Profession of Faith, and take an Oath of Fidelity to the Magisterium.
Visit our FAQ page for more information.