Master of Arts in Pastoral Studies – Apologetics
Please Contact Us!
The Admissions Office is only a phone call or an email away!
Holy Apostles College & Seminary
Admissions Office
33 Prospect Hill Road
Cromwell, CT 06416
Graduate Admissions Phone :
860-632-3066
Undergraduate Admissions Phone:
860-632-3026
Admissions Email:
admissions@holyapostles.edu
Apologetics Concentration Overview
Apologetics concentration provides students with a biblical basis for the key Catholic teachings and customs. Students will be equipped with apologetic knowledge that non-Catholics wonder about, object to, and preach against. Topics include an introduction to apologetics, Catholic norms, nature and grace, the moral magisterium of John Paul II, and non-Catholic beliefs. Concentration faculty includes noted Apologetic experts Trent Horn and Dr. Stacy Trasancos.
The Master of Arts in Pastoral Studies (MAPS) concentration in Apologetics is available 100% Online.
Core Curriculum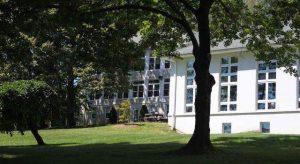 Holy Apostles College and Seminary requires M.A. in Pastoral Studies candidates to complete a 6-credit co-requisite sequence by taking PAS 602 Fundamentals of Practical Theology (Every Semester) as well as DTH 645 Nature and Grace (Spring). Following these co-requisite courses, an additional 12-credit Apologetics Core is to be taken.
Core Courses for the Apologetics Concentration
1. PAS 805 Trinity and the Incarnation 
2. APO 512 Apologetics
3. DTH 512 Spiritual Life in the Classics 
4. PAS 785 Pastoral Issues Concerning Human Sexuality 
Four courses must be taken within each area of concentration, and these are clearly marked within each concentration.  The remaining two courses are electives and are preferably also within the concentration.
Coursework
A candidate for the M.A. in Pastoral is required to complete all course work detailed in the degree plan. The specific degree requirements for the Apologetics concentration may be found in the Sample Degree Plan below.
Apologetics Concentration Sample Degree Plan
Graduate Capstone
The Summative Evaluation is the capstone of the student's academic work in the M.A. program at Holy Apostles College & Seminary. All candidates enrolled in an M.A. degree are required to complete a Summative Evaluation. Those enrolled in the M.A. in Pastoral Studies are required to take the Comprehensive Examination as their Summative Evaluation. (Students enrolled in the MAPS program prior to Fall 2017 may complete a thesis or special project in lieu of the Comprehensive Exam.) Full descriptions of the Summative Evaluation exercise are available on the Summative Evaluation page.
Faculty
Program Director:
Dr. J. Marianne Siegmund
msiegmund@holyapostles.edu
Concentration Chairs:
Apologetics – Professor Trenton Horn
Catechetical Ministry – Fr. Gregoire J. Fluet
General Studies – Dr. J. Marianne Siegmund
Marriage and Family – Dr. J. Marianne Siegmund
Pastoral Counseling- Fr. Gregory Lockwood
Spiritual Direction – Fr. Gregory Lockwood
Youth and Young Adult Ministry – Dr. Marc Tumeinski
For a full listing of our faculty, please visit Faculty Listing.
Frequently Asked Questions
How long does it take to complete an MA in Pastoral Studies?
The M.A. degree program may be completed in as little as 2 years.There is a 6 year time limit from entry into the program through completion of the degree requirements. Please see the Academic Catalog for additional information.
Is the program flexible for working individuals?
Our 100% online courses make the M.A. degree program flexible for working and busy individuals.
Are the Faculty members faithful to the Magisterium?
All members of the faculty who teach theology and philosophy must be approved by the Chancellor, make a Profession of Faith, and take an Oath of Fidelity to the Magisterium.
Visit our FAQs page for more information.